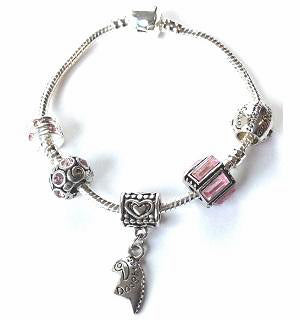 Our Children's Daughter 'Half Heart Pink Sparkle' silver plated charm bracelet co-ordinates and joins perfectly with our Adult's Mother 'Half Heart Love Always' silver plated charm bracelet which is available to purchase separately.
This is a beautiful bracelet that is ready for a special daughter to wear. It would make a fantastic gift to show the special bond between mother and daughter.
This unique bracelet features:

Half Heart 'Daughter' Drop Charm

Pink Sparkle Geometric Bead

Silver and Pink Diamante Swirl Charm

'Love you to the moon and back' Barrel Bead

Pink Diamante Sparkle Clip
Supplied gift wrapped in tissue and presented in a velvet pouch with presentation box.
Size Guide: Most accurate if you can measure wrist directly. When measuring the wrist please add 2-3cm to the wrist measurement to allow for the beads.
General Size Guide:
Children Age 5-8 = 16cm
Children Age 9-13 / Extra Small Adult = 17cm
Small Adult = 18cm