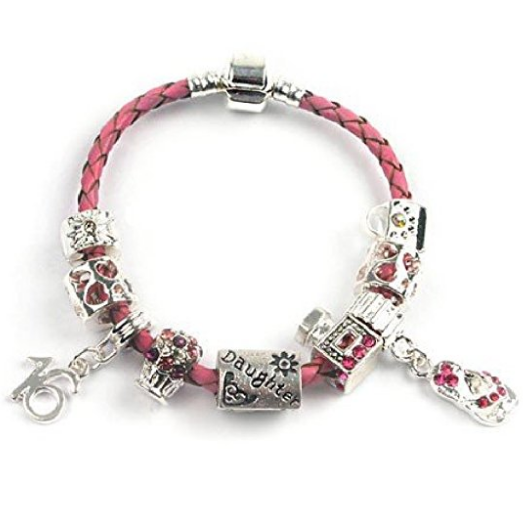 Simply add your Birthday number to this glam Age 13/16/18 Little Mix bracelet for daughter. It includes a pink leather bracelet of your choice and the selection of beads and charms shown. This bracelet makes a perfect gift with your own added touches!
Features handbag, open heart charms, flip flop drop charm, pink diamante perfume bottle, 'Daughter' triangle, funky muffin, age drop charm & silver diamante star clip.
Personalise with a 13, 16, or 18 drop charm (please select the required age above).
Supplied gift wrapped in tissue and presented in a velvet pouch with presentation box.
Size Guide: Most accurate if you can measure wrist directly. When measuring the wrist please add 2-3cm to the wrist measurement to allow for the beads.
General Size Guide:
Children Age 5-8 = 16cm
Children Age 9-13 / Extra Small Adult = 17cm
Small Adult = 18cm
Small-Medium Adult = 19cm
Medium Adult = 20cm
Medium-Large Adult = 20cm
Large Adult = 21cm