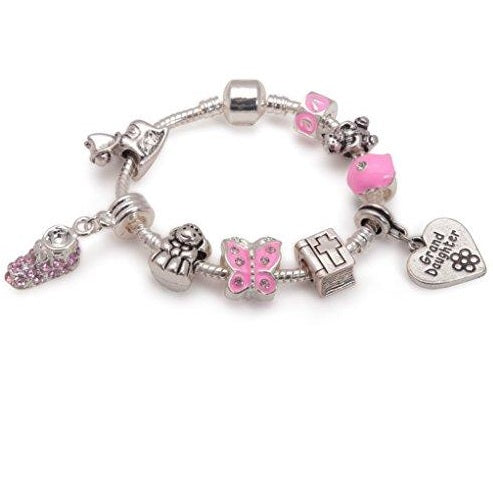 This baby Girls 'Little Angel Granddaughter' Christening bracelet set includes a Silver-Plated Bracelet and the selection of enamel and silver plated beads and charms shown. A fabulous Baptism or Christening gift idea for any girl will love on her special day.
Christening granddaughter bracelet includes:
Rocking Horse.
Pink Sparkle Butterfly.
Girl Figure.
Silver and Pink Diamante Bootee Drop Charm.
Pink Cupcake.
Bible.
Teddy Bear.
Silver Plated 'Granddaughter' Heart Drop Charm.
Pink 'Love' Clip.
This pretty Christening bracelet set is ready to give as a special Christening gift, wrapped in tissue and presented in a velvet pouch with a presentation box.
FREE Standard USA Delivery & 10% OFF First Order code is CHARMING
General Size Guide: 
Children Age 2-4 = 6in - 15 cm
Children Age 5-8 = 6.3in - 16 cm
Children Age 9-13 / Extra Small Adult = 6.7in - 17 cm
Small Adult = 7in - 18 cm
Size Guide: Most accurate if you can measure wrist directly. When measuring the wrist please add about 1" or 2-3cm to the wrist measurement to allow for the beads.